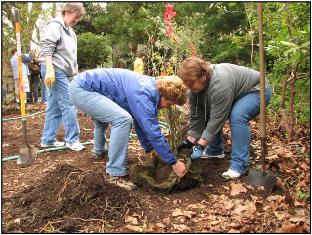 Want to attract more wildlife to your backyard?
Please join us for a Backyard Habitat class this spring at the Woodland Park Zoo!
In this series of five classes, you'll learn from experts fromSeattle Audubon, PAWS Wildlife Center, Washington NativePlant Society, Washington Department of Fish & Wildlife,and Woodland Park Zoo about how to design your wildlifehabitat, attract birds and other wildlife to your backyard,select and care for native plants, manage your backyardsustainably, and get your yard certified as a BackyardHabitat.
Spring 2013 Classes:
ATTRACTING BIRDS TO YOUR BACKYARD
Wednesday, March 20th from 7 to 9 p.m.
KEEPING PETS AND WILDLIFE SAFE IN YOUR BACKYARD HABITAT
Thursday, April 4th from 7 to 9 p.m.
SPRING PLANTS AND PLANTING
Wednesday, April 24th from 6:30 to 8:30 p.m.
SITE EVALUATION, DESIGN, AND MAINTENANCE
Tuesday, May 7th from 7 to 9 p.m.
WATER FEATURES FOR WILDLIFE
Tuesday, May 21st from 6:30 to 8:30 p.m.
Cost: $25 per person per class / $100 per person for the five-part series if you register before 3:00 p.m. on the first class day.
Jenny Mears | WOODLAND PARK ZOO
Community Engagement Coordinator
601 North 59th Street, Seattle WA 98103
Woodland Park Zoo saves animals and their habitats
through conservation leadership and engaging
experiences, inspiring people to learn, care and act.